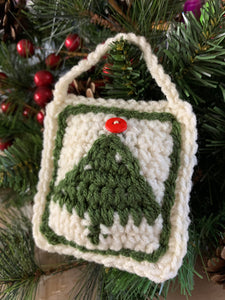 Crackling fireplaces, the scent of freshly baked cookies, and the joy of handmade ornaments adorning the tree - that's the essence of an old-fashioned Christmas. This holiday season, bring a touch of nostalgia and warmth to your home with my Rustic Christmas Tree crocheted ornament pattern. Not only will you create charming decorations, but you'll also find fulfillment in being a good steward of your yarn scraps.
Rediscover the Magic of Handmade
In a world filled with mass-produced decorations, there's something undeniably magical about creating your own ornaments. The Rustic Christmas Tree crocheted ornament harkens back to a simpler time when handmade treasures were the heart and soul of the holiday season.
These little trees exude a cozy, rustic charm that instantly transports you to a cabin in the woods, where the only sounds are crackling logs and the laughter of loved ones. As you crochet these ornaments, you'll feel a sense of peace and happiness, knowing that you're crafting a piece of your own Christmas story.
The Joy of Yarn Scraps
One of the most beautiful aspects of this pattern is its eco-friendly appeal. I encourage you to dig into your yarn stash, those forgotten scraps tucked away in the corners of your crafting space. These Rustic Christmas Trees are the perfect project for using up those leftover bits and bobs and turning them into something meaningful and beautiful.